Thank you for wanting to learn more about our Children's fund. Funds raised help provide life-saving equipment and create comfortable, engaging environments for our youngest patients. All this is only made possible by the money you raise; it is changing lives.
How donations have helped
Electric car for children to travel down to surgery
The red electric toy car, bought with donations made to the Children's fund, has been introduced to make the experience of going for an operation less scary for young children.
"Going for an operation can be a scary experience for children and we try to do all we can to alleviate those nerves. Something simple like making the experience a little more fun for children can make a huge difference." Clare Macglashan, Matron for Neonatal Services and Interim Matron for Children's Acute Services

Meet the Children's Ward Play team
Meet Play Assistant, Amy Dowdall and Play Specialist, Annie Owen who are both based on the Children's Ward at Wirral Women and Children's Hospital. In addition to their 'day job' they have also volunteered as Children's fund Charity Champions a role which they feel will bring many benefits to their work.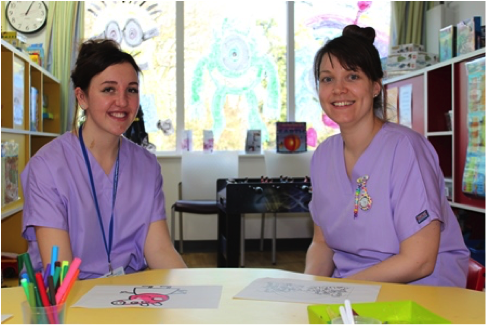 When children and young people are admitted to hospital, they are often at their most vulnerable. Annie and Amy's job is to provide recreational programmes, which help to prepare them for surgery and procedures, express their feelings, increase understanding about their medical condition and act as a welcome distraction to what they are going through in hospital.
Amy explained
"We build great relationships with the children and families that we support and they are always very grateful for the care they have received. We are often asked how they can 'give something back' to the hospital so it just made sense for us to get more involved with the Charity and start spreading the word.

"Donations are really important as they help us to undertake our roles by funding things like new equipment, entertainment for our young patients and environmental improvements to the ward. They say 'charity begins at home', so we had no doubts about championing the fund for our area of work."
Annie added
"The Children's fund covers numerous different areas of the Trust and we are looking forward to hearing about people's fundraising activities."
If you would like to learn more about how you can support the Children's fund contact us on 0151 482 7788 or email wuth.charity@nhs.net.